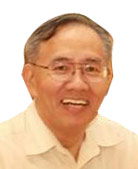 Dear SOPPOA Members
I am pleased to introduce this SOPPOA Website. This website is to help members to be kept informed on a regular basis the new initiatives and events organized by SOPPOA and with relevant partners, as well as developments in the palm oil industry in Sarawak and globally.
SOPPOA strives to be the leading advocate for the responsible and sustainable development of the palm oil industry in Sarawak. In this connection, members will be notified of upcoming seminars and conferences that promote Good Agriculture Practices (GAP) and adoption of relevant strategies for sustainable production of palm oil products that includes environmental, economic and social issues.
Members are most welcomed to contribute feedback to SOPPOA so that we can continuously improve to serve members better.
Yours sincerely

David Tiong Chiong Ong
Chairman
Sarawak Oil Palm Plantation Owners Association (SOPPOA)